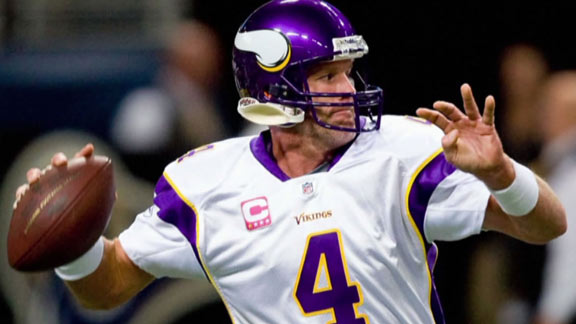 We can just see it now. And it scares us. Terrell Owens doing sit-ups on Brett Favre's driveway while the ol' gunslinger throws passes to high schoolers on the lawn. It's the perfect storm of aging egos filling 24 hours of news. And that's before they take the field.
All right, T.O. and Favre teaming up for the Vikings is still more talk-radio and talk-television dream than realistic rumor, but why wouldn't it work? The Vikings are already used to putting the Metamucil out with the Gatorade. It's hard to find quality NFL players 35 or older who aren't kickers (sorry, kickers), but assuming the guy in Mississippi signs on for another season, the Vikings already have two of the best in Favre and defensive tackle Pat Williams. So what's one more?
Where else could T.O. land and not be either the oldest player or the biggest media diva?
"

Rosenhaus is a liar. No one wants a cancer in the locker room. There aren't five teams interested in Owens. Unless he's counting UFL teams...

"

-- strak2426
"

T.O. can still play ball. Look at his last year in Dallas compared to his year in Buffalo. His Buffalo stats reflect the lack of offense on the Bills roster, not a lack of ability. I would love to see him in Carolina!!!

"

-- CosMoney