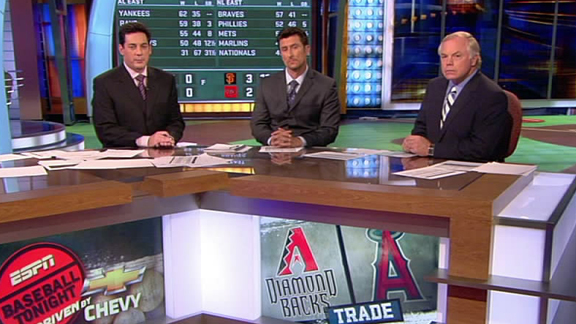 Compared to the Diamondbacks, who woke up Monday 22 games behind the Padres in the NL West, the Angels are in the thick of a pennant race. Unfortunately for Angels fans, the Diamondbacks don't set the curve for postseason participation.
Trailing the Rangers by seven games in the AL West and the Rays by more than that in the wild-card race (with a few other teams also blocking their path), the Angels seemed unlikely candidates to acquire Dan Haren for the stretch run. Unless it's the 2011 stretch run we're talking about.
So was this a last gasp at contending in 2010 or the first move of the 2011 playoff race?
Mac (Philly)
Since when is Dan Haren not a premium player?
Jayson Stark
Dan Haren could pitch for my team. But he's not Cliff Lee. Seen his numbers this year? Full transcript