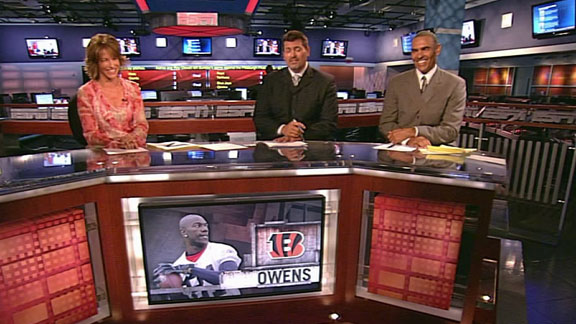 What happens when you take a team that ran the ball more often than 28 teams last season and give it arguably the two neediest wide receivers, a position not known for an abundance of selflessness in the first place? Frankly, we have no idea. But we'll watch.
AFC North champions a season ago, the Bengals are only scheduled for three primetime games this season (including a Thanksgiving game against Rex Ryan and the loquacious Jets). But the way we see it, the Bengals with Chad Ochocinco and Terrell Owens are must-see viewing from Week 1 against the Patriots through Week 17 against the Ravens.
It's a chore Spielberg or Scorsese might not want, but one SportsNation blogger thinks Carson Palmer is the right director for T.O. and Ochocinco.
"Also, if there is a QB who can handle a huddle with TO and Chad in it at the same [time], it is Carson Palmer. He doesn't back down and will let them know how he feels about their performances on and off the field as well. He let Chad know earlier this offseason he needs to stop worrying about being a star and to come work out, so as you can see he won't let TO run over him like Owens has been able to do in the past, especially with Tony Romo. I think that is what TO really wants is for the QB to be in his face just the same and push him as much as possible which will help TO succeed and not be a distraction in any way to the Bengals locker room." -- Check out greg_g74_pt.2's blog.
Pete (Cincy)
Is A. Bryant not doing well in his rehab? I don't see how they figure playing 85, Bryant and T.O at the same time.
AFC North blogger James Walker
There is always enough room for three receivers, Pete. Most teams have three-receiver packages in its offense. All three would see the field, it's just a matter of who starts. My guess is it would be Owens in this case. I think the person hurt the most would be Andre Caldwell and/or Jordan Shipley. Full transcript