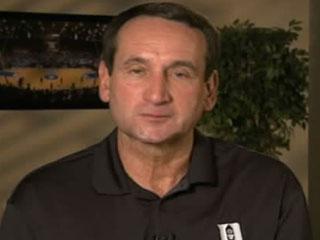 It seems unlikely the newest incarnation of Team USA will produce any NBA free-agent madness on par with Dwyane Wade, LeBron James and Chris Bosh hatching plans for a takeover. That is, unless you get worked up about the idea of Tyson Chandler and Eric Gordon joining forces with Danny Granger.
It's not quite the 1998 team of CBA rejects and European-based nobodies that somehow won bronze in place of NBA players otherwise occupied with a labor dispute, but the American side Mike Krzyzewski will lead in the FIBA World Championship doesn't look like dream material. We've got Kevin Durant, which might be enough all on its own, but Carmelo Anthony, Kobe Bryant, Dwight Howard, LeBron James, Chris Paul and Dwyane Wade are among the high-profile players sitting out this round of international play.
With O.J. Mayo, Tyreke Evans, Gerald Wallace and JaVale McGee out of the picture, what would your final 12 look like out of the 15 remaining candidates?
Guards: Chauncey Billups, Stephen Curry, Eric Gordon, Rajon Rondo, Derrick Rose, Russell Westbrook
Wingmen: Kevin Durant, Rudy Gay, Danny Granger, Andre Iguodala
Big men: Tyson Chandler, Jeff Green, Brook Lopez, Kevin Love, Lamar Odom

"

Wow, this is the first time I have seen the full roster and I have to say it is very lackluster. Who came up with this list of players? I wont be surprised if this team fails to capture anything.

"

-- atlbravefalconsince1986

"

Everybody please relax. Coach K knows what he is doing. It is unfortunate that we do not have anyone better at Center than Brook Lopez and Tyson Chandler. Why isn't D. Howard playing? If I were Coach K I would cut Granger, Westbrook, and Green. I would cut Chandler too if I had my druthers, but we can't enter play with only one center.

"

-- KinKeezie