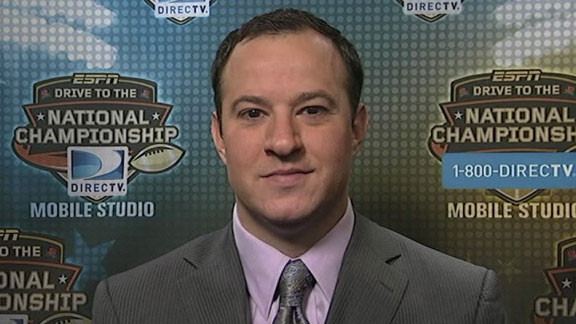 The Big Ten has settled a lot of issues when it comes to the league's future. It will have a new team when Nebraska joins next season. It will have a championship game, perhaps as early as next season to welcome the Cornhuskers. (If you want SportsNation's advice on the site, almost nothing would be cooler than Lambeau Field.) The conference is even close to figuring out schedules, with commissioner Jim Delaney hinting at nine conference games.
One thing conspicuously missing from the grand plan? What do we call it?
Some cute design work with the logo -- some people see an "11" between the words, while others see a rabbit -- kept things in check when the league had 11 teams, but a 12-team league can't be called the Big Ten, right? The Pac-10 solved the dilemma the easy way, but unless the Big Ten and Big 12 simply trade names, it's a little trickier for them.
What do you think it should be called?
Chris (DC)
If you're Jim Delany, where are you going to host the championship game?
Big Ten blogger Adam Rittenberg
Chris, I'd look at the SEC's model and see if there's once facility that makes the most sense. If not, I'd certainly be open to a rotation. Big Ten fans will travel to this game, and moving it between places like Indy, Detroit, Chicago and Cleveland wouldn't be too tough logistically. I'd also consider the Green Bay option, although I'd have a long list of questions to ask the Packers before going through with it. Full transcript