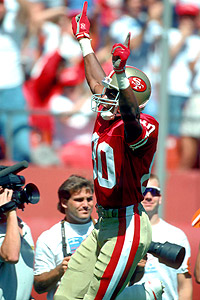 ESPN.com's first season of fantasy football was way back in the online Stone Age of 1995, and we're willing to bet more than a few championship teams that the inaugural fall featured either Emmitt Smith (1,773 rushing yards, 25 touchdowns) or Jerry Rice (1,848 receiving yards, 15 touchdowns) in the starting lineup.
Of course, more than a few championship fantasy teams also probably featured Scott Mitchell, Chris Warren or Carl Pickens, which is to say getting to Canton requires equal parts brilliance and longevity. It's also to say, wow, 1995 was a really, really long time ago. Scott Mitchell throwing 32 touchdown passes? But we digress.
The Pro Football Hall of Fame opens its doors to a seven-member class headlined by Rice and Smith, the NFL's all-time leading receiver and all-time leading rusher, respectively. We've seen some memorable Hall of Fame classes in recent seasons, but does pairing Smith with Rice beat out anything Cooperstown or Springfield can offer?
Clay (Charlotte)
Any of the younger wide receivers you look at and think they've got a little bit of Jerry Rice in them?
Jerry Rice
That's hard to say, because I never try to judge or look at other WRs and say that he reminds me of myself. As receivers, we never wanted to be compared that way. If I looked at anyone, I would say Larry Fitzgerald, because of his work ethic. He comes prepared and puts the time in in the offseason. Full transcript
"

It's not very often that you can say someone is definitively "The Greatest". You can say that about Jerry Rice. The greatest receiver there ever was, and quite likely ever will be.

"

-- skrais1
"

best HOF list ever. when you have to leave out cris carter, tim brown and shannon sharpe because theres not enough room thats a hell of a class.

"

-- silkk2462