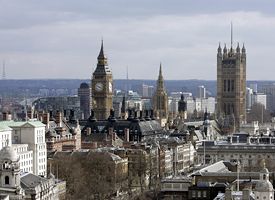 Many of the NBA's best and brightest will gather in London for the 2012 Olympics. Until then, basketball fans in England are stuck with the Nets and Raptors. Twice. Basically, David Stern is offering his equivalent of Justin Bieber as the opening act for for Bob Dylan. At least the Brits still get the Lakers in the preseason.
Stern's announcement that the Raptors and Nets will play two regular-season games in London stokes the fires of European expansion. And how crazy is the idea, really? A flight from Newark to London isn't that much longer than the corresponding flight from Newark to Los Angeles (granted, the time involved gets a little more daunting if you talk about places like Mikhail Prokhorov's town).
Will we someday watch LeBron James announce he's taking his talents to the Riviera?
"

The only stupid decision Stern made was sending 2 games overseas in the first place. At least it's the Raptors and Nets, 2 teams Americans could care less about @ the moment, he got that part right I guess. And at least the games are back to back so the road trip isn't as demanding on the players. Sending the Lakers, Celtics, Heat, Suns, Magic or any other team we love to watch would be a slap in the face to Americans who made the league and game in general what it is today.

"

-- xrobologyx
"

Brilliant idea! This will absolutely work because the Brits know nothing of basketball! I mean, we know nothing of soccer and certainly aren't smart enough to figure out when Europe is sending us garbage club teams instead of the real deal.../sarcasm

"

-- biiiiiiigbaaaaaabay