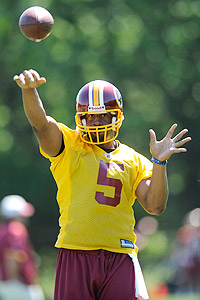 By our count (all right, actually, it's Google's count), it's a mere 194 miles from Bethlehem, Pa., home of Eagles training camp, to Ashburn, Va., home of Redskins training camp. So if you are a fan from King of Prussia, Pa., who really wants to show support for Donovan McNabb, how about you show some commitment and get on the highway heading south to Virginia? Of course, if you just want a little attention, follow Jim Devlin's lead.
Devlin showed up Wednesday morning to watch Eagles practice, via a sideline pass obtained from a friend, wearing a replica of Donovan McNabb's Washington Redskins jersey, only to have security guards ask him to remove it. Devlin did, but is it fair or foul for the Eagles to be so touchy about a guy they traded?
Taking things in a slightly different direction, one SportsNation commenter suggests the real issue here is why anyone cares what jersey McNabb wears these days.
"He was a beast the early part of the decade, but since has been an inconsistent, injury prone, quarterback with a relatively fragile ego. In addition, his [effectiveness] has been limited, because he can no longer scramble the way he used to, partly due to injuries, partly due to his own [stubbornness], and partly because he has let himself put on pounds for some reason." -- SN commenter FatsMcDrucker
UberSamoyed (Frisco,TX)
You've had the whole chat to think about it. Answer the Muppet question!If all four head coaches were Muppets, then who would they be? For this answer, Muppets from "Sesame Street" and "The Muppet Show" are in play...
NFC East blogger Matt Mosley
Uber, it's an outstanding question. I'll answer it despite your efforts to second-guess everything I've written on the Beast! :)Coughlin: Oscar the Grouch (easy)Wade: Bert from "Bert and Ernie" fame...He just sort of has Bert's laidback approach.Reid: Fozzy Bear. I could've said something else from the Muppets, but I'm in a nice mood.Mike Shanahan: Definitely Kermit. Full transcript