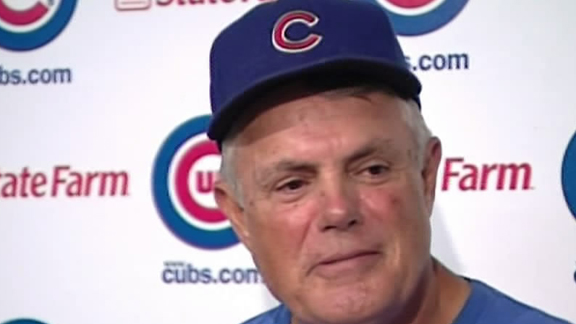 Let's play "Mad Libs" with the news of the day. With Lou Piniella's retirement, baseball lost a [adjective] manager. Keep it clean.
No manager ever won more games in one regular season than Lou Piniella did with the Seattle Mariners in 2001. Few managers skippered more surprising World Series sweeps than the one Piniella and the Cincinnati Reds pulled on the mighty Oakland Athletics in 1990. And without a doubt (all right, maybe a little doubt), nobody who ever wore an MLB uniform threw a better base than Piniella.
But as Piniella walks away, was he great or very good? Was he Tony Gwynn or Harold Baines? Greg Maddux or Frank Tanana? Mario Batali or Ming Tsai (or maybe that's just us)?
Matt (Plano,TX)
Who in your opinion is the best manager to take over after Sweet Lou?
ESPN Chicago's Bruce Levine

Depends on who's available. The Cubs like Fredi Gonzalez,but most baseball people tell me he has the Atlanta Braves job locked up. After that, I know Hendry is open to Sandberg and at least five or seven other candidates. If it was my choice, I'd probably take either Ted Simmons or Sandberg. Simmons for his experience, Sandberg for the cotinuity with the young players coming up in the system. Full transcript
"

Lou was a good manager but not great. No reason why some of his Seattle teams didn't at least make the World Series but they never did. Then he quit to go to Tampa and did nothing there either.

"

-- brewerfan54
"

A great baseball mind right here. I always loved how he could use his tantrums to fire his team up. He basically was telling his guys "Hey, I'm willing to get kicked out for you, so what are you gonna do for me?" As a Dodger fan, i always knew it would be a tough series going against a Lou P team.

"

-- twizzle163