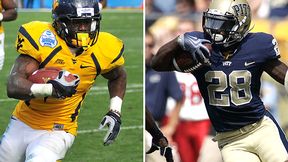 We're only a week away from life once again having purpose and meaning. That's right, college football season is a mere seven days away -- or 168 hours or 10,080 minutes, assuming you read this at precisely 6:30 p.m. ET, the time Wake Forest and Presbyterian are scheduled to kick off on Sept. 2 (live on ESPN3.com).
It may not take long for both the Heisman and national title races to kick into gear either. Boise State and Virginia Tech are getting a lot of love for their Labor Day clash, but next Thursday brings Pitt and star running back Dion Lewis playing on the road at Utah.
But is Lewis even the best back in a conference Big East blogger Brian Bennett says may offer unparalleled depth at the position? Check out the tale of the tape.
hh (Destin)
Is Running Back the deepest position in the Big East this year?
Big East blogger Brian Bennett
Far and away. Not sure there's a better RB league in the country in '10. Full transcript
Submarine Mike (Jackosnville Fl)
Is Noel Devine a sleeper in the Heisman race and is he a possible late 1st rounder
Mel Kiper
I think he is a Heisman candidate. I don't think he's a sleeper. He commands leadership in the lockerroom. He has that explosive first step. Pound for pound, he's the best football player in the country. This is a team that has a chance to win the Big East. Geno Smith is the key. He is the next QB in line. If you look at the defense, all three DL are seniors. The defense would be really good. They have two studs on this defense in Chris Neild and Robert Sands, who is clearly their best NFL prospect. Full transcript
Lynn (Monticello, FL)
Hi Ivan, I like Pitt to win the Big East this season and looking at their schedule I feel they could run the table at having a shot at the National Championship. Your thoughts.
Ivan Maisel
I agree on both counts. The Panthers are ranked high enough at the outset that a climb to the top is plausible. That would be a great story. I pull for the great stories. Full transcript