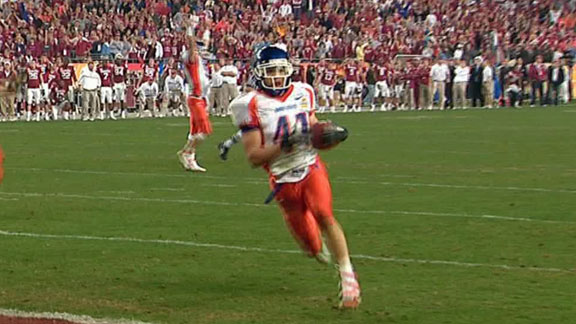 The debate in advance of most college football games operates at a micro level. Does Oregon have a quarterback without Jeremiah Masoli around? (72 points against New Mexico suggests, well, yes.) Will North Carolina have 11 eligible players left to line up on defense? (Barely.) Can Rich Rodriguez coach his way out of a paper bag? (It helps to have Denard Robinson.) But Monday's showdown between No. 3 Boise State and No. 10 Virginia Tech is shaping up as less a football game than a battle for the soul of college football.
Which side are you on? Here's a sampling of the debate raging in SportsNation.
"I'm sick and tired of BSU believing they belong with the college football elite when they play a one game season. Sure, you have had recent success with some BCS schools (however you still have a losing record to teams from BCS conferences), but when you only have to get jacked up for one nonconference game a year and then a bowl game ... it makes for a short season. Thankfully this year VT will take care of you in Week 1 and put the discussion to rest." -- SN commenter maddogUNI
"Sure, teams like BSU, BYU, TCU and Utah beat AQ teams here and there. The problem is that they don't get to play a complete AQ schedule and do not get to prove themselves week after week. So yes they can win that one game, but we have no way of knowing if they could do it for an entire season." -- SN commenter bbazata83
"You just don't listen ... selective listening anyway. I guarentee TCU, Utah and BYU's combined winning % against BCS schools was better than .500 last year. Those are the schools I have been talking about. But you can continue to make it sound like I'm singing the praises of UNLV and Colorado St., but I'm not. Utah, BYU, and TCU are good, and time and time again have proved they can play with and beat anybody in the country, period. If you say otherwise, you just simply haven't been watching." -- SN commenter Head for the Mountains
Karl (Seattle)
I live in Seattle but bleed Orange & Maroon - what do you expect to see Monday between Va Tech and Boise State? What does Tech need to do to win that game?
Ivan Maisel
Thanks, Karl. I think the Hokies need to do what they should do best. Take those running backs and go right at Boise State. They also need to move the chains and keep Kellen Moore off the field. Running backs are good at that, too. Full transcript
Bob (Twin Falls (ID))
Will Kellen Moore ever be an NFL QB? Any other NFL prospects on this years BSU team?
Mel Kiper
Great college QB. He is great with preparation. Very rarely makes a bad decision. You're talking about a guy with 39 TDs and 3 INTs. That's unbelievable. What he worked on this offseason was the deep ball. Titus Young is a speed merchant at WR. They want to get the ball to him. Moore is only about 5-11, 185, 190 pounds. That's the issue, size. That's going to majorly work against him. Their best pro prospect is Nate Potter, a junior. He has a chance to be a first round pick. Young is their next prospect. Jeron Johnson. Pettis. Ryan Winterswyk. Full transcript