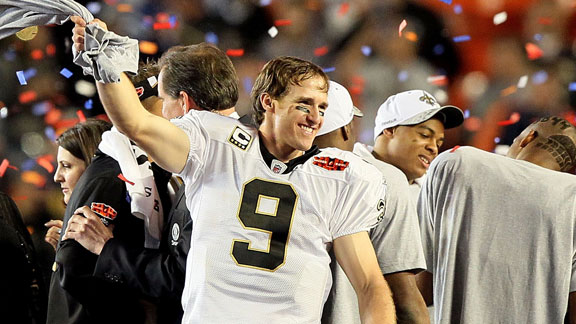 Those who don't remember history are doomed to repeat it, but what history are we talking about with the Saints and Vikings?
As the two teams prepare to open the 2010 season Thursday night, the Saints are the defending champions who cruised through a seemingly uneventful offseason. The Vikings are the team that couldn't get it done in the NFC title game and now must rely on Brett Favre's creaky ankle and an offense missing Sidney Rice. Advantage Saints? Maybe, but SportsNation blogger jdebose004 remembers the last meeting a little differently, a story that might make the Vikings the team to beat Thursday.
"Many people overlook the fact that the Vikings only lost by 3 points on the road after seemingly a dozen turnovers and defensive lapses. 'All defenses have to do is blitz and the Vikings will mess up again.' In theory, maybe. That is, if every defense in the league has the blitz packages and personnel and ability to rough up Favre.

"Also, Favre passed for more than 300 yards against that Saints defense. He withstood every shot they delivered and was one completion away from making the Super Bowl. That final, fateful interception was the exact same play they completed against the Cowboys the week before. True, it was a bad decision to throw it both times, but that's not important." -- Check out jdebose004's blog
Ryan (Cleveland)
What do you make of AP's "I'll just hold the ball higher and I won't fumble anymore"?
NFC North blogger Kevin Seifert
Don't get it. But I do think he was more specific Monday when he said he needs to be careful not to brace his fall with the arm holding the ball. That was a real, actual thing he is working on to avoid fumbles. It's a start. Full transcript
"

The Crykings have a great defense and a good offence. The Saints have a great offence and a good defence this should be a great game if the old man isn't too stiff and out of practice. Face it he looked terrible in the preseason games. 34 24 Saints win cruisin.

"

-- Big BangRookie
"

As a Vikes fan I find it hard to rip on NO! Great city with wonderful people! Sucked having my Vikes on the losing end...but NO winning the big one was great for football, great for Louisiana, great for fans who have had too much bad news over the years! As far as their treatment of Favre...I wish we would see more of that! Thats football! QB's are way over protected these days!

"

-- nine_fingers_fan