September 28, 2010
Sep
28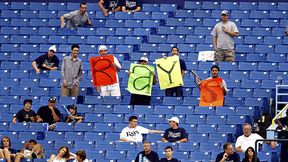 David Price does not make Alex Rodriguez-type money (at least not until the Yankees sign him in free agency down the road), but at just under $2 million for 2010, he does make a good living pitching for the Rays. And might we say, pitching well enough to be a factor in the Cy Young race and a reason the Rays will be in the postseason.
But after roughly 12,000 fans showed up for a potential clincher on Monday night (the Rays lost), Price tweeted that it was "embarrassing" to have a crowd like that for a game with that much potential meaning, a sentiment echoed by teammate Evan Longoria.
Price later apologized, but whether you think he needed to make amends or not, his comments clearly riled up some folks in SportsNation.
"I had to give up my eight lower-infield-seat season tickets because my business has tanked and would rather keep my 3 employees I have left on the payroll than pay for seats. I know baseball players don't read the paper that often and their busy schedules only have them watching ppv movies in their room instead of the news, but Tampa Bay unemployment is over 17%." -- gd10102
"Next year I will keep my embarrassing full season ticket money and spend that embarrassing disposable income on something where I don't get told I am embarrassing to the folks getting my money." -- lao149992
"I was a big supporter of St Pete building the stadium, and having watched a number of games there don't think the stadium is that bad or in such a terrible location. I do believe, however, that St Pete officials underestimated the fact that people from Tampa don't cross the bay bridges that often; without the larger population base across the bay, the team will never draw huge crowds." -- mshaw107
"I love Price, he's a great guy, but he shouldn't call out the fanbase like that. I've been supporting the team since they debuted and it makes me feel like crap to have to listen to that. They get paid millions of dollars to play baseball, they need to shut their mouths sometimes when the city they play in, the average person is barely making it/ or unemployed." -- raysfan1013
"I went to the game on Sunday and when they announced the lineup I almost puked. No CC, no Zobrist, no Joyce, no Pena, no big name at all. JoeMa had Aybar hitting 3rd and Rocco hitting cleanup. Sunday is always one of the best drawing days of the week for the Rays and Joe trots out a Durham Bulls lineup? I bet that keeps some people away too. You can't trust that if you go to a game you will see your favorite players." -- steve0skills
Glenn (Fresh Medows, NY)
What do you think about Longoria commenting on Ray's attendance about time, out of line or too late given the declaration that the Rays are not going to re-sign Crawford
Joe Morgan
It's easy for me, Longoria and other people to criticize the fans for not coming there, we all make a good living. But there are people out there that can't afford to go. The economy has taken its toll on people. If we don't realize that, then we are the problem, not them coming to the ball park. A lot of people can't afford the hundreds of dollars it takes to go to a game. Even though there are some stadiums half full, I will not criticize the fans for not going to the games. There are a lot of folks that just can't afford to go and have to spend that money on their families. It's not just baseball either. It's all of the major sports. Full transcript