September 30, 2010
Sep
30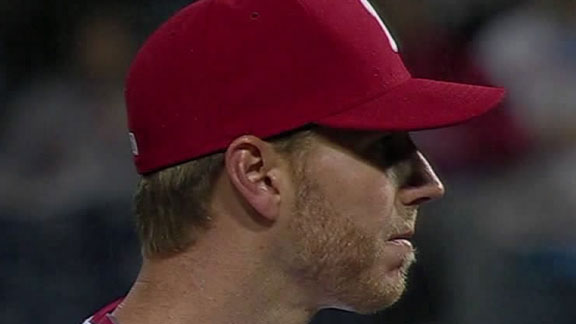 Unlike the increasingly heated AL Cy Young debate, the NL MVP seems like a bit of a foregone conclusion. Albert Pujols is doing what he usually does, but the Cardinals aren't going to the postseason. The Rockies made a run, but without a playoff berth, neither Carlos Gonzalez nor Troy Tulowitzki appear likely to pick up enough votes. Joey Votto, on the other hand, ranks second in batting average and third in home runs and RBIs for a team going to the playoffs for the first time in 15 years. That's what we call an MVP resume.
But what about Roy Halladay?
The Phillies ace is close to a lock for NL Cy Young, but does he belong in the MVP debate? No National League pitcher has won the award since Bob Gibson in 1968, but five AL pitchers won MVP more recently than that. So has Votto really created more wins for his team than Halladay has for his?
Rick (Philly)
Should Halladay get some MVP consideration? He is the best player on the best team in the NL
Rob Neyer
The MVP has unofficially been redefined to exclude starting pitchers who don't win 25 games, and of course nobody wins 25 games anymore. Based purely on wins and losses and impact on pennant races, Halladay is obviously a wonderful candidate. And he won't finish in the top 5. Full transcript
Derek (Toronto)
Hi Jerry, i've had the pleasure of watching Roy Halladay pitch from day one and to see him get the recongition and accolades he deserves is great. However, what he has done this year doesn't come as a surprise to those of us who followed him his whole career. He has preformed this well year in and year out but while he was in Toronto it seemed like he always took the back seat to other pitchers ie. Johan Santana. Do you think the fact that he played in Toronto is the reason he didn't get all the fanfare that he's getting now?
Jerry Crasnick
Derek, Part of it was playing in Toronto, and part of it is his media-shyness. Halladay is a good guy, but he's so busy watching video, lifting weights, doing stretching and cardio and all the other stuff he needs to prepare, he's almost invisible in the clubhouse. He doesn't reveal a whole lot of himself for public consumption. That's never been a priority for him, and it never will be. Full transcript