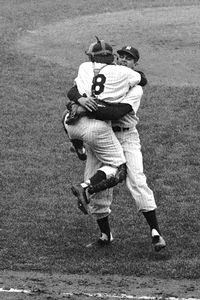 Now that we have a few days to catch our breath before the start of baseball's postseason (and thanks to the Padres for that), what are we to make of the teams still worrying about pitching rotations? Well, for the most part, SportsNation isn't exactly shocked by the playoff field.
Five of the eight active teams were ranked in SportsNation's top 10 on Opening Day, and the Giants were knocking on the door at No. 11. Only the Rangers (No. 16) and Reds (No. 23) really came out of nowhere.
But if either the Rangers or Reds are going to keep surprising, Cliff Lee and Edinson Volquez will likely need to break out their best Don Larsen impersonation. Lee rebounded from a weak August to dominate three of his final four starts, while Volquez missed the first half of the season but gets the first postseason start for the Reds after posting a 1.95 ERA in September. It's the time of year for aces to shine, but which teams have the best arms?