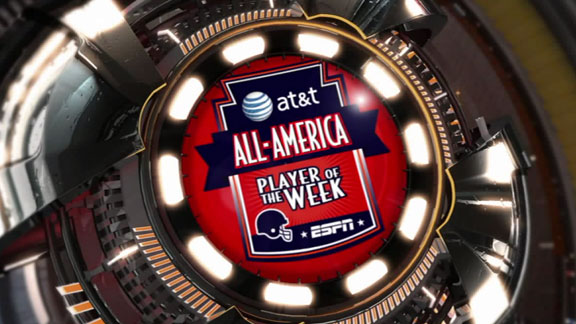 The BCS standings say Oklahoma is the best team in the land, but do the Sooners not even have the best Heisman candidate in their own state?
Oklahoma State sophomore Justin Blackmon (from Bob Stoops' backyard in Ardmore, Okla.) caught 10 passes for 207 yards and a touchdown against Texas Tech last weekend -- and it might not have been his best game this season. Blackmon has totaled at least 120 receiving yards in all six games he's played this season and has 12 touchdowns among 57 receptions.
On pace for nearly 2,000 yards and more than 20 touchdowns, he's working on the receiving equivalent of what Barry Sanders did on the ground for the Cowboys all those years ago. But is he the best player in the state?
"Why hasn't anyone mentioned Justin Blackmon at Oklahoma State yet? I mean he only has 57 rec., 955 yards and 12 receiving TD this year. I'm not saying he should be first, but should definitely be mentioned by someone. Oh and it's not like Oklahoma State doesn't run the ball ever -- they're 41st in the country in rushing." -- SN commenter Buddy Nathan
"Justin Blackmon, WR for Oklahoma State, should definetly be in the conversation. Personally, I think he is better than Dez Bryant. Blackmon is the most dominant player in the big 12 right now. He at least deserves to be put into the discussion." -- SN commenter serdawi
"I think the Heisman is forgetting about someone. DeMarco Murray from OU. Team is undefeated. Landry Jones always checks down to this guy and he still produces on the ground. ... I guess voters will figure it out once OU runs the table all the way to the Big 12 championship." -- SN commenter Kantgetum
Justin Blackman (Stillwater)
Am i better than ryan broyles or is he just facing better competition?
Big 12 blogger David Ubben
Well, he's facing better competition, clearly, but they're very, very different receivers. Hard to compare them. Broyles is definitely better at getting open and running with the ball in his hand, but he can't go up and get balls like Justin Blackmon can. Broyles reminds me a little bit of Steve Smith and Blackmon obviously has some Randy Moss in him. Full transcript