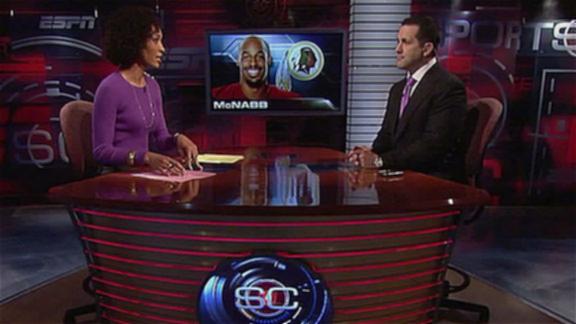 Maybe Donovan McNabb didn't pass his two-minute conditioning test? As Matt Mosley blogs this morning, at least the silver lining of a messy situation for the Redskins is that we have a controversy in D.C. that doesn't involve Albert Haynesworth (or, we might add, Gilbert Arenas).
You know the details by now. With Sunday's game against the Lions still up for grabs in the final minutes, Mike Shanahan pulled McNabb and replaced him with Rex Grossman. The coach's explanation was that he felt Grossman was essentially a better fit for the two-minute drill (he learned it last year under offensive coordinator Kyle Shanahan in Houston).
But as the Raiders continue putting up the most points this side of Auburn or Oregon, did the Redskins pick the wrong quarterback in the offseason?
"

I watched a recent game where McNabb was throwing behind and at the feet of many of his receivers. People forget he did this on a regular basis in Philly. It's no surprise that his QB rating is so low. Could it be that is why Shanahan pulled him (and why Reid dumped him)?

"

-- botobob
"

reality check - mcnabb shouldn't have been pulled at that point in the game. BUT, he has gone from not one of the most accurate to a very inaccurate passer. save me the garbage about sacks, every qb gets hit and dumped these days. he's hit a bunch of fifty yard plus passes , all of which should have been tds but for the ball being late and underthrown.

"

-- mbdm59