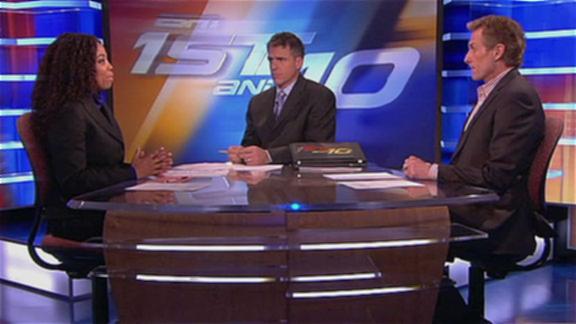 Game 1: SportsNation's burning questions for No. 1 Oregon at California


Jonathan (NYC)
Mel, what do you think of LaMichael James' NFL draft prospects if he were to decide to leave early this year? Is he a first-round talent in this year's draft? And If he were to come back to Oregon, what does he need to work on to improve his position?
Mel Kiper
He's a third-year sophomore. Second highest rated running back that is draft eligible behind Ingram. Great quickness and power for his size. His main thing right now is staying healthy so he can prove his durability. He has to show he can be more than a situational performer at the next level. He only has eight receptions this year out of the backfield, so that is something to watch. At the pro level he will need to be more of a factor in the passing game. He will also need to factor into the return game which he hasn't done in college. But he is a big-time talent. Full transcript
Game 2: SportsNation's burning questions for Georgia at No. 2 Auburn


Alex (Columbia, SC)
I saw that Auburn almost overtook Oregon in the BCS. Do you see them taking the Number 1 position back?
Brad Edwards
No, I don't. This was a result of TCU's big win jumping them over Oregon in several computers, thus causing the Ducks to weaken in the computer element. Oregon has a much stronger schedule than TCU the rest of the way and should regain that ground in the computers. The only way Oregon falls from No. 1 in the BCS is if it loses a lot of its first-place votes in the polls. Full transcript
Game 3: SportsNation's burning questions for No. 19 Mississippi State at No. 12 Alabama


Jamie (Provo, UT)
Do you believe Miss. State will beat Alabama this Saturday?
Ivan Maisel
Yes. I think this will be a real gut check for Alabama. The Tide isn't going to win the national championship. They're playing a team with a lot of emotion after the death of Nick Bell. Full transcript
Game 4: SportsNation's burning questions for No. 23 South Carolina at No. 22 Florida


Mike (Pageland, SC)
The Gamecocks travel to Gainesville this weekend to try and win their first SEC East title. How do you like their chances after the beat down from Arkansas last weekend?
Beano Cook
Number one, that game meant nothing. I agree that South Carolina should have played a little better. I am rooting for South Carolina and Steve Spurrier, but I think Florida will win. It would be ironic if Florida and Auburn met for the SEC title! Full transcript