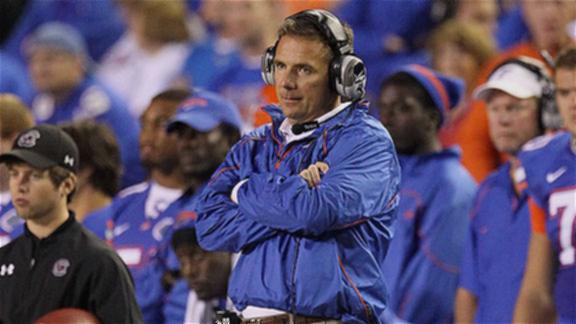 Jimbo Fisher is now the longest-tenured head coach among Florida's four most notable football programs, with about a week's lead on South Florida coach Skip Holtz. Let that last sentence sink in for a few seconds.
Legendary names like Bobby Bowden, Jimmy Johnson, Steve Spurrier and Urban Meyer? Not anymore in the Sunshine State. With the arrivals of Will Muschamp and Al Golden, one of the biggest football hotbeds in the nation is entering uncharted waters when it comes to the men in charge of Florida, Florida State, Miami and South Florida.
All told, the four coaches in question combined to lose 20 games this season, counting the seven losses Texas suffered with Muschamp as defensive coordinator. But which one will fare best moving forward?
Todd (AA)
Who is [Michigan's] coach next year? Wouldn't Harbaugh be better off staying at Stanford or going to Michigan? In the NFL even the best coaches get fired after around 10 years. He could stay in AA for 25 years.
Bruce Feldman
Had heard he's always been intrigued by the NFL, but would returning to the alma mater be his ideal. He has more options than probably any D1 coach out there because he has an NFL ready system, his age, his background. ... Just a hunch, but I'd be surprised if he's back at Stanford for the 2011 season. Full transcript