Stan Van Gundy, who is normally as quiet and reserved as a church mouse, has made some waves by suggesting that the media already have chosen Derrick Rose as NBA MVP. Van Gundy, if he had his druthers, would pick Dwight Howard (gosh, what a surprise! We can't possibly imagine why he went the Howard route there), whose numbers actually look pretty good in comparison to Rose's. Of course, LeBron James is still in the conversation, and we're not going to pretend that they're the only options, but seeing as we have limited space, you're going to have to go with "other" if you want to write in Kobe or Durant or Timofey Mozgov.
---
Who gets your vote for NBA MVP?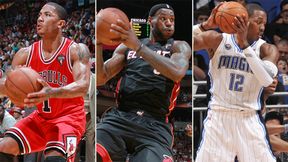 Any of these guys would be a good choice, but Magic coach Stan Van Gundy says media members have already made up their minds. Have you?