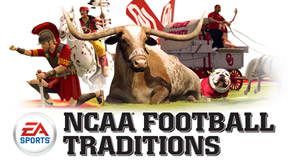 The championship round of SportsNation and EA's "NCAA Football Traditions" vote is underway! It's come down to Michigan's "Go Blue" banner and Florida State's Chief Osceola! Which school will get your vote and win the bracket?
Cast your vote now and tune into SportsNation (4 p.m. ET, ESPN2) to see how your school's tradition is doing! The winning school will receive hundreds of free copies of EA's "NCAA Football 12" game courtesy of SportsNation and EA Sports.
EDITORS NOTE: Due to technical issues we are moving the final round of voting to our Facebook page. Unfortunately, all votes cast here since the final round opened will have to be discarded. Only votes cast on SN's Facebook page will be counted.