With the trade deadline come and gone, the Houston Astros aren't likely to pop up in the news again until Jeff Bagwell's Hall of Fame fate is decided this winter. But is Bagwell evidence of why fans of a team that is 35-73 should be optimistic? Bagwell, of course, arrived in Houston as a prospect in a deadline deal, like those the Astros acquired for Michael Bourn, Jeff Keppinger and Hunter Pence. Rank 'Em: Deadline winners and losers?
"So the Astros are losers because they traded away two mediocre players, who, although nice, you can't build a competitive team around? Especially not with a farm system like theirs. They went from the worst team in baseball AND the second worst system to the worst team in baseball and a very respectable system that might still lack absolute star power but at least shows some depth." -- SN commenter so ebbes
---
Good day to be an Astros fan?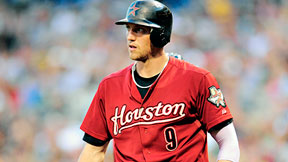 There may be more excitement in Oklahoma City and Corpus Christi, where two of the Astros' affiliates play, but should fans of the worst team in baseball be encouraged by trading the likes of Hunter Pence for prospects?