The latest ethics scandal to hit college football may result in the gutting of one of its most storied programs. Nevin Shapiro, a former Miami booster currently serving a 20-year sentence for running a $930 million Ponzi scheme, claimed that he provided benefits to 72 Miami athletes, primarily college football players, between 2002 and 2010. The benefits supposedly ranged from the mundane, like cars or jewelry, to the much more serious, such as sex parties or payment for an abortion. The allegations are so severe that Miami could be faced with the so-called death penalty -- a ban on competing at all for a year or more. Shapiro may be the root cause of this scandal, but how much did Miami itself know about his illicit activities?
"Forget Miami, what will happen if the NCAA actually investigates the SEC? Sounds like this is just the tip of the iceberg and Shapiro has nothing on the boosters from other conferences. He may be a convicted felon, but I believe that he is far from the only person that gives money and gifts to athletes." -- SN commenter bad2dagame
"I would hate to see Miami get punished "SMU-style" from this loser spilling the alleged beans." -- SN commenter Scott33715
"Death penalty is just too harsh in my opinion. This is one of the most storied/successful programs in college football history, also an NFL player factory." -- SN commenter FormulaOner
---
Is the death penalty in the works?
Southern Methodist University earned the death penalty in the mid-80s for paying players out of a slush fund set up by a booster. Their 1987 season and all 1988 home games were canceled. The program has never recovered.

---
A bounty on QBs?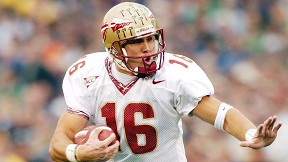 One of the most shocking allegations in Shapiro's story is the claim that he offered a $5,000 bounty if Miami players knocked former Florida State QB Chris Rix out of the game.

---
What do you make of boosters?
Boosters seem to be an entrenched part of college football, but do they do more harm than good?

---
Is Miami still elite?
Miami hasn't won a bowl game since the MPC Computers Bowl in 2006. Is this the last gasp of an elite program, or have the Hurricanes long since fallen from glory?