As if college football teams don't have enough on their minds at this of year, Iowa and Iowa State are less than a month away from their annual rivalry game and don't know what they're playing for on Sept. 10 in Ames. The humanity! The old Cy-Hawk Trophy was scrapped after last season, but the new version, seen here, didn't exactly meet with rave reviews from Iowans wondering if someone ordered it off a late-night infomercial. Might we suggest a statue of some fried butter?
"I, for one, think that the trophy was merely a classic representation of Iowa itself -- small towns, farmers, families. Very Field of Dreams-ish." -- SN commenter tle422
"I don't think people want a sweet Hallmark family scene for a football trophy. All the other ones are booze and violence (Little Brown Jug, Paul Bunyan's Axe)." -- SN commenter thegtxpress
---
What does your inner art critic say?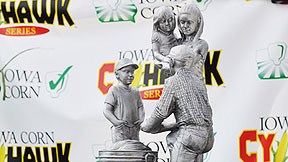 The depiction of a farmer, his family and their corn apparently struck some people as, well, having little to do with football.

---
Where should they look for advice?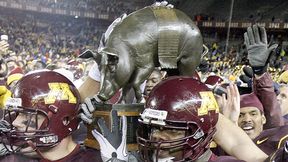 This is Floyd of Rosedale. Floyd is a bronze pig. We'll leave it to fans of Iowa and Minnesota to explain why their teams play for it.

---
Where can they find inspiration?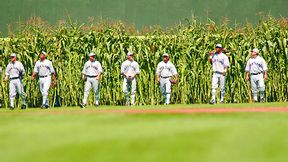 Among fun facts about the state that don't involve baseball players walking through corn: Iowa is the only state that begins with two vowels.