September 16, 2011
Sep
16
LSU may be the only team in the country capable of running up the score in a game in which it scores 19 points. The Tigers created a little breathing room with 10 points in the fourth quarter of Thursday's 19-6 win at Mississippi State, but the three field goals they totaled through three quarters would have been enough. We invited you to rank SEC defenses earlier this week, but have the Tigers graduated to other competition?
"I am a sort of a Bama fan cause I lived in T Town for around five years, but they are going to be in trouble with this defense, probably the best in the SEC. I mean Miss St. had plenty of points and yards against Auburn but nothing against this LSU defense." -- SN commenter bondsbay
"LSU dominated this game, it wasn't even close. Remember they aren't an offensive juggernaut. They let their defense keep the game close and open it up toward the end when the other team is exhausted. They are really, really good. I'm an Arkansas fan and hate saying that, but its true." -- SN commenter jimmyb56
---
Phillies aces or LSU defense?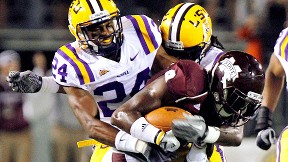 LSU has already shut down good offenses from Oregon and Mississippi State, but the day after Cliff Lee came within an out of his seventh shutout, are the Tigers stingier than the Phillies?

---
LSU or Alabama?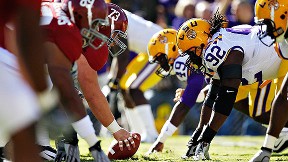 No. 2 Alabama will look to improve to 3-0 when it plays North Texas tomorrow, but has LSU already clinched your vote with its early play?

---
What about the points?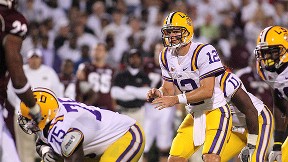 Thursday's output aside, LSU has already put up at least 40 points twice this season. But with Jordan Jefferson's status in limbo, how much do you question LSU's offense?