September 20, 2011
Sep
20
Among the pitchers selected ahead of Ian Kennedy in an average live draft in ESPN Fantasy Baseball? How about Ryan Dempster (10-13, 4.63 ERA), Ricky Nolasco (10-11, 4.46 ERA) and Brett Myers (6-13, 4.39 ERA)? Among the NL starters who beat Kennedy to 20 wins? That would be nobody. Kennedy's gem in a 1-0 win against the Pirates makes him the first to 20 wins, but does it make him the Cy Young favorite? Vote: MVP and Cy Young picks?
"As a Yankees fan, I shake my head in disbelief that this guy has become a 20-game winner only a couple of years after we traded him. But we got Grandy in the deal, who may be MVP. Wonder if a trade has ever occurred before where the main players in it went on to win such prestigious awards?!" -- SN commenter Gatormattman
"Gotta say, Upton doesn't get much love regarding MVP talk, but the Brewers would still be sniffing first without one of Braun/Fielder, the Cards would still be sniffing second without Pujols and the Dodgers would still be mid-pack without Kemp. The Diamondbacks would be nowhere without Upton." -- SN commenter storrsroars
---
Ian Kennedy or Justin Upton?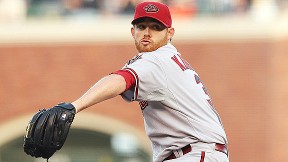 Kennedy struck out 12 in eight shutout innings, but Monday's game might still be going if Justin Upton hadn't homered for the game's lone run.