The Giants stormed back against the Cardinals, thanks in no small part to a favorable call from the officials when Victor Cruz appeared to go to the ground without being touched and put the ball on the turf. Later Sunday night, the Jets had no such luck in getting officials to reverse a Mark Sanchez fumble that was returned for a touchdown in their loss against the Ravens. Some (particularly Sanchez and Rex Ryan) thought the quarterback's arm was moving forward when he was hit. What did you see on two controversial plays for teams from the Big Apple?
"They ruled it correctly. Cruz went down on his own and didn't try to advance. End of story." -- SN commenter scottlandd yard
"It doesn't matter what reason Cruz gave the ball up. The only thing that matters in this situation is that he went down on his own and essentially gave himself up with NO INTENTION (effort) TO ADVANCE." -- SN commenter nyed1051
---
Did Victor Cruz fumble?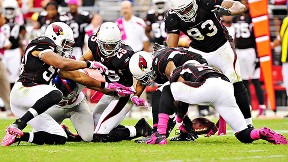 When you watch the play here, you can see Mario Manningham thinks his teammate put a live ball on the ground, but did officials get it right by rule?

---
Did Mark Sanchez fumble?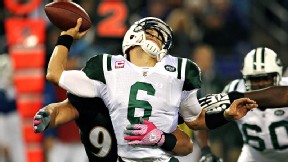 Replay failed to reverse the call on the field of a fumble, but watch the video above and rule for yourself. Was Sanchez's arm moving forward?