The Rays may have had one of the most epic comebacks in major league history in September, but their season ended abruptly Tuesday night on the strength of three Adrian Beltre home runs. The mood has changed dramatically in Tampa, as principal owner Stuart Steinberg, frustrated with a lack of attendance despite a great deal of success from the team, aired his grievances in the Rays' clubhouse after the game. Steinberg used the ominous phrase "the rubber has got to hit the road" -- could he be forecasting the Rays' departure from Florida?
"Move the Rays, that's the only solution. I know of half a dozen cities that would love for them to come over. They already have the pieces for a championship. Just need the money and they're set." -- SN commenter bonds_6
---
Are the Rays long for Florida?
The Rays have had a great deal of success in the past four years, putting up winning seasons and even making the World Series in 2008. The issue is attendance -- they couldn't even sell out home games during their brief playoff run this year.

---
Would a new stadium help?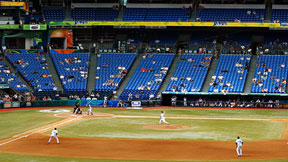 Unfortunately for the Rays, scenes like the above have been all too common during their recent history. The team has struggled to find a real foothold in Florida.

---
Will Florida have any teams?
The Marlins have a similar problem to the Rays -- even though the team has won two World Series in its brief history, it hasn't made much of an impact with its home fans.