Sure, there is the small matter of a spot in the World Series on the line as Albert Pujols and Prince Fielder trade home runs in the NLCS, but there's also the big matter of impending free agency. Or at least the matter of big money in free agency. Pujols won the day in Game 2 with five RBIs, but who is the prize this winter?
"Albert is a Legend. While he, as he said, has been blessed with this talent, we cardinal fans have been blessed to have him on our team for ten years. If STL doesn't resign him, the organization will forever be known as the one that let the best player in baseball get away. And the fans will NEVER forget it." -- SN commenter Hogphan919
"If Pujols really wants $30 million per for 10 years, I hope the Cardinals don't re-sign him. I'm sorry, but we Cardinals fans are 'blessed' to have a front office that rewards the loyalty of its fans by actually spending on team payroll." -- SN commenter AnthonyP005
---
Who is a bigger prize this winter?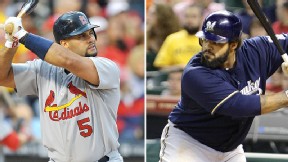 Pujols has a better track record, but is that exactly why the younger model of slugger may be preferred?

---
Who is better right now?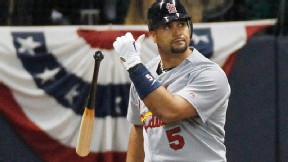 Pujols is hitting .414 with a 1.176 OPS, one home run and six RBIs this postseason. Fielder is hitting .333 with a 1.300 OPS, three homers and six RBIs.

---
What does the future hold?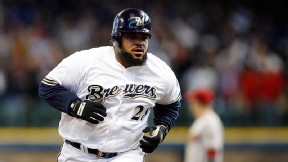 Fielder recently acknowledged this is likely his final season with the Brewers, but would a change of heart surprise you more than a change of scenery for Pujols?