This never would have happened with Rod Marinelli and Mike Nolan. And by that we mean both a confrontation between coaches and a meaningful game between the Lions and 49ers. Jim Harbaugh's 49ers knocked Jim Schwartz's Lions from the ranks of the unbeaten in Detroit on Sunday, but was what happened between the coaches after the win a bigger story?
"Losing is bad enough. But to make yourself a laughing stock by chasing after the other coach for something said is REALLY embarrasing. But hang in there Schwartz, perhaps time will reduce the shame of your being such a baby in public." -- SN commenter HP_Pavilion
"Harbaugh might be a good coach, but his ego is overblown and his sense of sportsmanship is extremely lacking. ... They are both to blame, but I lay the most blame on Harbaugh." -- SN commenter Rebel-999
---
Who gets the blame?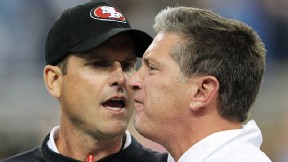 You've seen the video by now. Harbaugh offers a rather exuberant handshake, Schwartz bumps him and chases him down the field.

---
Did it overshadow the game?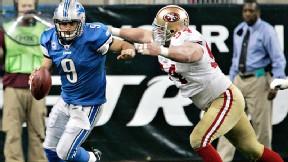 There was a game leading up to the handshake, a game in which the 49ers followed a road win in Philadelphia with another in Detroit against a previously unbeaten team.

---
Do we need handshakes?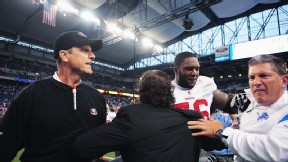 Bill Belichick and Eric Mangini would probably join Harbaugh and Schwartz in voting no on this one. What's your take on the tradition?

---
Who is doing a better job?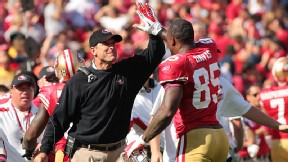 Back to the football for a moment. There are only four teams in the league with as many as five wins. Which coach deserves more credit for getting these teams in that club?