So, that Albert Pujols. He's pretty good, right? Hits home runs, walks a lot, even runs the bases really well. We knew all these things before, but after he hit three home runs in Game 3 of the World Series, it put his greatness into sharp relief. When you get yourself on a list populated by exactly two people, and one of them is Babe Ruth, well, mere words don't really seem to be satisfactory. You would almost be forgiven for ignoring the fact that Pujols went 0-4 in Game 4. Funny game, isn't it?
"They called his first home run at 429 feet. But that was where it was stopped by an abutment. Otherwise, that ball ends up about 525 feet away for sure. Barry Bonds juiced could turn on a high fastball like that. I once saw Ted Williams turn on an Allie Reynolds fastball just like that (3rd Deck, Yankee Stadium). But it doesn't happen often." -- SN commenter JimInNashville
"What I saw Albert do in game 3 was jaw dropping! Has to be one of the greatest single athletic performances ever-regardless of what the sport is! " -- SN commenter Steve610686
---
Where does Pujols rank?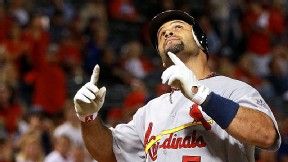 Reggie Jackson, Babe Ruth and Albert Pujols are the only men to have hit three home runs in one game in a World Series. That's a pretty amazing individual accomplishment, but Pujols isn't a one-hit wonder in the postseason.

---
Clutch or business as usual?
Pujols' regular-season OPS is 1.037. His postseason OPS in 71 games is 1.058. That's not a significant difference, but is it enough for you to anoint Pujols a clutch god?

---
Game 5 winner?
Derek Holland shut down the Cardinals in Game 4, tying the series at two games apiece. Chris Carpenter takes on C.J. Wilson in Game 5.