It's possible that Saturday's showdown between Matt Barkley and Andrew Luck will feature better quarterback play than a host of Sunday's NFL games (we're looking at you, Kevin Kolb and Joe Flacco). But are we looking at two quarterbacks destined for stardom at the next level?
"[Luck] is phenomenal and just does everything right. Of course, if Barkley keeps making plays like he did against ND (two scrambles for first down on third and fourth and short), he has a chance to be an All-Pro type quarterback in the National Football League as well." -- SN commenter Sureshot23
"Let's face it, the pressure that Barkley has been under at USC is far greater than the presure ever placed on any Stanford QB. It's Stanford for heaven's sake." -- SN commenter Bruindeath
---
Destined to star on Sunday?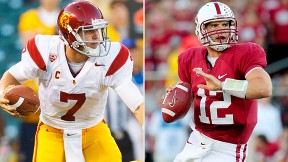 Are Luck and Barkley destined to follow in the footsteps of highly touted success stories like John Elway? Or is one of them another Matt Leinart?

---
Who goes after Luck?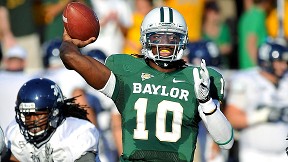 Barring one of the bigger reversals of fortune in draft history, it appears Luck will be the first player off the board. But which QB goes next? Is Baylor's Robert Griffin III No. 2?

---
What uniform will Barkley choose?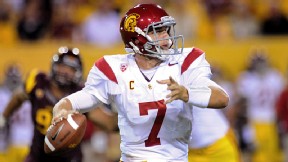 Barkley could follow Luck's lead and return for another college season, and he's said the prospect of finally being eligible for a bowl game might tempt him.

---
How do you define pressure?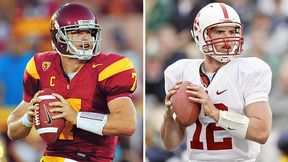 Luck is dealing with a lot of attention these days, but does trying to keep one of college football's signature programs afloat in troubled times bring more pressure?