Considering he had nothing to do with tackling Matt Forte, we're guessing Michael Vick isn't the most disliked Eagles player in Philadelphia today. But are you surprised to learn Vick is the player you most dislike? A Forbes.com survey found 60 percent of respondents disliked Vick to some degree. Does SportsNation have a different opinion?
"It's just easy to pick on Vick. He did his time and learned his lesson. He apologized a million times. People just don't want to let him move on. Give the guy a break already. He has accomplished a lot by making a comeback and playing successfully in the NFL again." -- SN commenter farleyjam
"I define 'dislike' of a player by their actions on the field (Tom Brady crying to refs that someone's pinky touched him). Not if or how they screwed up outside of their sport. That's just ridiculous." -- SN commenter Da Machine
---
Does SportsNation agree?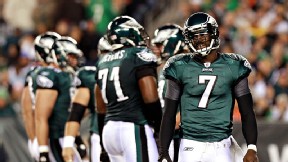 It's safe to say Vick qualifies for the 10 percent "awareness level" with the public used by the poll, but do a majority of fans really dislike him?

---
Whom do you dislike?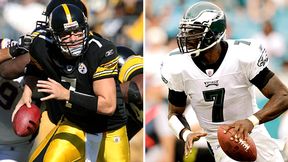 Vick was followed in the Forbes poll by Plaxico Burress, Ben Roethlisberger and Albert Haynesworth. Do you dislike any of them?

---
Jay Cutler or Michael Vick?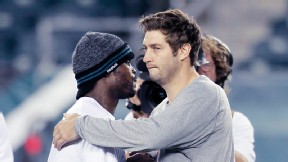 The quarterback who helped beat Vick on Monday, Jay Cutler, also made the top 10 in the Forbes poll. Who is more likable?

---
Do wins trump character?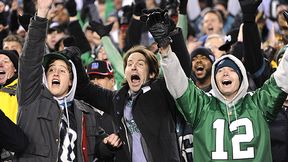 Whatever you think of Vick and Roethlisberger, would you trade a generic good citizen for a generic great quarterback?