One quarterback in Thursday's game between the Chargers and Raiders definitely looked unworthy of the price of two high draft picks, but it wasn't Carson Palmer. Philip Rivers continued to play like anything but a Pro Bowl regular, throwing an interception and losing a fumble in a 24-17 loss that dropped his team out of first place. What's wrong with a guy who still has a better career passer rating than Peyton Manning?
"I don't care what anyone says, Philip Rivers is playing hurt! He always had a weird release point, but you could really see it in this game. I am convinced that he is hurt!" -- SN commenter jmcneal333
"You know, considering how the Raiders draft, maybe it wasn't that bad of an idea to use first-round draft picks on Seymour and Palmer??? At least they get proven commodities who can play at Pro Bowl-caliber levels." -- SN commenter nosher11
---
What's wrong with Philip Rivers?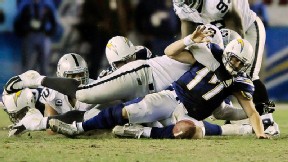 Rivers now has 15 interceptions, matching the most he threw in any of his first seven seasons, and he fumbled another ball away against the Raiders.

---
Is Rivers the biggest problem?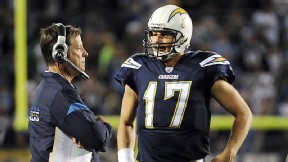 Rivers didn't have anything to do with Raiders running back Michael Bush running wild in Thursday's game, or with letting Darren Sproles go before the season.

---
No longer the favorites?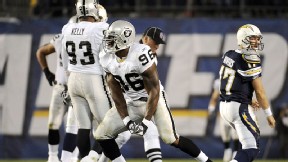 Just three days ago, 55 percent of SN picked the Chargers to win the AFC West. Does one game change everything?

---
Who is the class of the quarterbacks?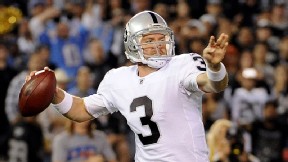 One quarterback played well Thursday, as Carson Palmer threw for 299 yards and two touchdowns. As rusty as he looked before this week, is he the division's best bet?