This presumably wasn't what fans of the Lions had in mind in thinking they might finally have some memorable Thanksgiving football on their hands. Instead of cementing their place as a rising power and kicking the Packers out of the unbeaten club, the Lions watched Ndamukong Suh kick an opponent, leading to his ejection, and possibly cement his place as one of the league's dirtiest players. But is that fair to Suh?
"Could care less about what suh did, but be a MAN and own up to it. So you lost your temper and your emotions got the best of you. It happens, but don't be that guy who denies it and make some excuse up to try to get yourself to believe you were in the right. Own up to your actions and take the consequences like a MAN." -- SN commenter thebaskett
"Seems to me alot of Suh fans are blinded. What he did was just as bad as Haynesworth. He intentionally went to harm someone. That is what is being missed here." -- SN commenter teidden
---
Is Suh an intentionally dirty player?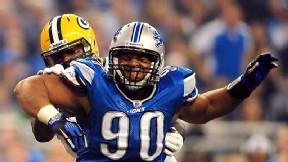 Suh insisted after the game that he was just trying to free himself in the incident. And as recently as Nov. 2, 65 percent of SN said he wasn't a dirty player. Has that ship sailed?

---
What punishment should await?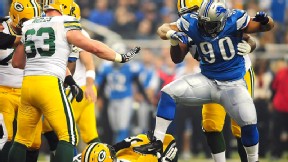 It's safe to say the ejection in front of a national audience will lead to some kind of league response, but how hard a hammer should Roger Goodell wield?

---
The most infamous Turkey Day moment?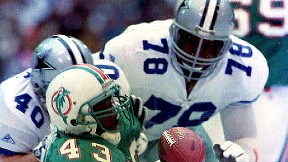 There certainly wasn't anything malicious in Leon Lett's ill-advised pursuit of the ball in 1993 (Lett seen here in happier moments in that game), but it helped shape his legacy.

---
The most infamous stomp?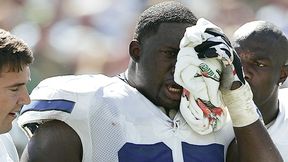 Prior to Thursday, Andre Gurode (above) was the victim of arguably the NFL's most infamous stomp at the hands (or feet, to be precise) of Albert Haynesworth.

---
The right face for a franchise?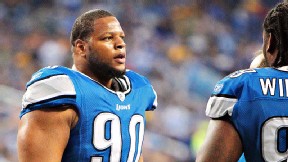 Would you rather cheer for a potential playoff team with an iffy reputation or a team with little hope but arguably the classiest star in NFL history?