The Miami Marlins already have one of the best shortstops in baseball, but it looks like they'll enter 2012 with one extra. The Marlins have agreed to a six-year, $106 million contract with longtime Met Jose Reyes, who will supplant the incumbent Hanley Ramirez at shortstop. Ramirez will move to either third base (most likely) or center field, which would give the Marlins one of the best left sides of the infield in baseball. If their reported interest in Albert Pujols comes to fruition, however, they might end up sporting one of the best infields (period) of all time, and a Big Three to rival that other Miami team.
"They overpaid for Reyes because he'll never have the season he had last season again." -- SN commenter TommyNJ
"Although I'm a Marlins fan, I highly doubt that Pujos is going to leave the Cardinals. I would be very excited to have him on our team, but I would also be sad that he couldn't finish out his career in St. Louis. " -- SN commenter sejope87
---
Was the contract fair?
Reyes had an astoundingly productive 2011 season, but the contract will take him through a few of his decline years.
null
---
Who's more valuable?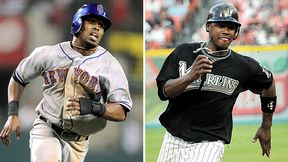 Ramirez has been a better hitter than Reyes over the course of their careers, but his move to third could mean that his bat is no longer a unique asset.
null
---
Will Pujols sign?
Albert Pujols has a number of suitors, but at this point, the Cardinals and Marlins seem to be the two front-runners.
null