It wasn't pretty, and it was painful for their quarterback, but the Steelers got the win they needed against the Browns. Ben Roethlisberger returned from a high ankle sprain to make sure his team had enough points to win, but will James Harrison be leaving the lineup? Harrison delivered a helmet-to-helmet hit on Cleveland QB Colt McCoy, and it's not exactly his first brush with the NFL law. Should Roger Goodell suspend Harrison?
"As a fan of neither team, I just do not understand Harrison's mentality. The ball was gone and he still goes helmet to helmet. I am starting to wonder if it is a Cleveland thing. He just does not play this way against most of the other teams." -- SN commenter Painkillers1967
---
Time to sit down James Harrison?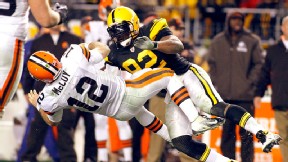 You can see the video of Harrison's hit here and listen to NFL Network's Deion Sanders make a case that Harrison wasn't at fault.

---
Your take on Harrison's value?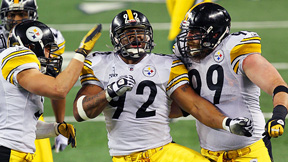 Harrison plays with passion and is a key cog in the Steelers' defense. But does his intensity run a little too hot for comfort?

---
What about the other quarterback?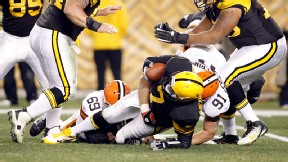 Colt McCoy wasn't the only quarterback worse for wear after Thursday's game. Ben Roethlisberger returned after a high ankle sprain.