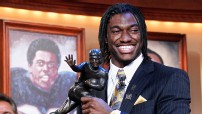 Robert Griffin III made history Saturday night, becoming the first Heisman Trophy winner from Baylor. And the Heisman wasn't the only trophy Griffin picked up, as he also won the Davey O'Brien Award as the nation's best quarterback earlier this week.
Griffin's 192.3 pass efficiency rating topped all Football Bowl Subdivision quarterbacks. In addition, he finished fourth in passing touchdowns (36), fifth in completion percentage (72.4)
and sixth in passing yards (3,998) on the season.
What are your thoughts on Griffin's Heisman victory?
Fan reaction
Mike Smoove: "glad they did the right thing voting for RG3, it could have been so easy to give it to Luck but RG3 truly earned this award, congrats to him"
Greg_T60: "I always appreciate the player who gets it done at a place where it has never been done. Baylor. RG3"
smoofypk: "I'm glad the voters actually got it right. I thought the SEC bias and the Andrew Luck Kool-Aid would have gotten him shafted. Congrats RGIII!"
N2DEEP3D: "Heisman is supposed to be for the best player to college football, and RG3 is not it. He will be another Heisman winner who fails in the NFL..."
cutigerswin1: "Glad to see the most deserving player win it. Although everyone up there could have walked away with it, the right man won it."

Athletes reaction on Twitter

Tim Tebow (@TimTebow) Welcome to the Heisman fraternity RGIII! Very impressed with how you handled yourself...
Baron Davis (@Baron_Davis) Congrats to RG3. Sick skills and crazy talent. Great speech also... Also big ups to all the other candidates!
Jason Thompson (@jtthekid) Superman Socks with the Cape....RG3 lol
Chase Daniel (@ChaseDaniel) RGIII brings home the Heisman! So happy for him. It is very well deserved! Couldn't have gone to a better person.
Jamaal Jackson (@CenterStage67) #RG3 one word.... HEISMAN!!
Matt Leinart (@MattLeinartQB) Congratulations to RGIII for winning the Heisman! Well deserved!
Read more fan posts. Or respond by signing in or creating a profile, and start blogging.