Todd Haley's run with the Chiefs had its share of bright spots, but a 19-27 record overall precipitated the Chiefs to fire Haley, just short of finishing his third season. Haley was an emotional presence on the sideline, arguing often with coordinators and quarterback Matt Cassel, but was his bad record his fault, or just a result of a lack of personnel?
More from SportsNation: How did SportsNation rate Haley on a weekly basis?
"kinda of a head scratcher. I am not a chiefs fan but they got absolutely got crushed with injuries and they have really improved since the beginning. " -- SN commenter steidman160
"Seems premature. The guy basically got a year and a half to turn around a poor team, albeit a poor team with some talent on it. I wonder if the penalty on him yesterday played into this decision because it seems oddly timed." -- SN commenter Frank2072
---
Whose fault was it?
Todd Haley and general manager Scott Pioli worked in tandem, but was it Haley's on-field decisions or Pioli's personnel moves that sent the Chiefs into a tailspin?

---
Will Haley coach again?
Former mentor Bill Belichick had a first head coaching job similar to Todd Haley's. Should Haley get another chance?

---
Attractive job?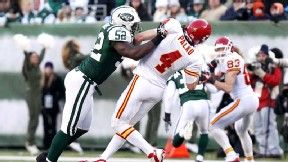 The Chiefs are stuck in a smaller market and don't seem to have many prospects for the near future. Would you want to take on their challenges if you were a head coach?