Fans of the Houston Texans waited a long time to see their team make the playoffs. Now they find themselves hoping they get to wait an extra week to see the team take the field in a postseason game. Even without Mario Williams and Matt Schaub, the Texans hold the No. 1 overall seed in the AFC by virtue of tiebreakers on the other 10-3 teams. Would home-field advantage make this team championship material? Rank 'Em: Power Rankings
"I think most Texans fans are hoping for the best in the playoffs but (deep down) not expecting a SB win. Anything can happen, but it will be tough with our team at less than full strength. Who knows? We could be this years Team of Destiny, a la the Packers last year." -- SN commenter ThirdCoastTexan
"As an original Texans season ticket holder, I feel that the curse is now over. This franchise has dealt with numerous freak injuries this year, but it will not quit." -- SN commenter Smackrunner
---
Do Texans have easy road to 13-3?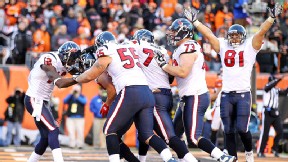 Tiebreaker permutations mean the Texans aren't guaranteed the No. 1 seed if they win out, but do you see a game that could trip them up?

---
There's no place like Houston?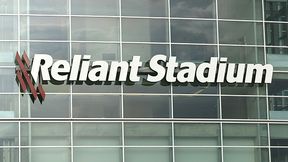 Only the Ravens (7-0) are unbeaten at home among the four AFC teams with 10 wins, while the Texans (5-1) and Patriots (5-1) have the most home games remaining.

---
What if the Steelers came to Houston?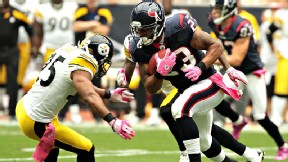 If the playoffs started today, the Texans would likely get the winner between the Steelers and Broncos. Assuming the Steelers somehow solved Tim Tebow and advanced, who would win?

---
Could Matt Schaub be Wally Pipp?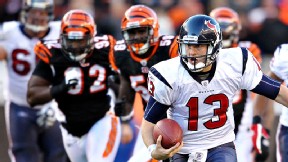 Rookie T.J. Yates (above) came up clutch in a win at Cincinnati. Could more of the same push a healthy Matt Schaub out of the picture?