If you missed some of these links earlier in the week, they might prove to be a good way to ease the clock toward quitting time.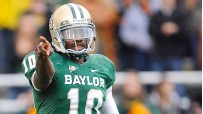 The week's best polls ...
1. Was the Alamo Bowl Robert Griffin III's farewell?
2. Is Norris Cole the fourth Heatle?
3. Have the Jets blown their playoff chances?
4. Has Drew Brees surpassed Dan Marino?
5. Are the Lakers and Mavericks in trouble?
6. Is Jason Taylor a Hall of Famer?
The week's best rankers ...
1. Did Brees' record make him the MVP?
2. Who are the top NBA duos?
3. Which team tops your NHL Power Rankings?
4. Which are the best NFL games of Week 17?
5. Which team tops your NFL Power Rankings?
The week's best quizzes ...
1. Longest-tenured coaches in each sport?
2. Most Pro Bowl selections?
3. Most career NFL passing yards?
4. Lowest NFL attendance?