---
Are the Giants on a playoff run?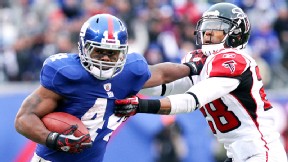 The Giants had the league's No. 32 rushing offense this season but piled up 172 yards last week.
Vote: Five questions for Giants at Packers

---
Do you trust Eli Manning?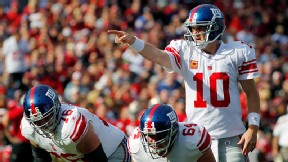 Eli Manning threw 16 interceptions in the regular season and has had a pick-prone career. The Packers rely on turnovers to cover the league's worst pass defense.

---
Who has better targets?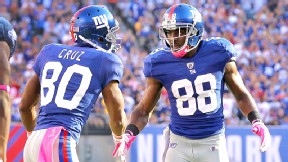 It's tough to know who is Manning's No. 1 target, but is the combination of Victor Cruz and Hakeem Nicks better than Greg Jennings and Jordy Nelson?

---
Will not-so-frozen tundra matter?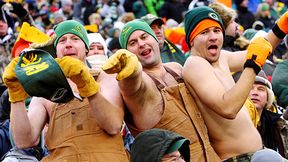 The field itself won't be frozen in Green Bay, but will cold temperatures hurt one offense more than the other?

---
Ray Rice or Arian Foster?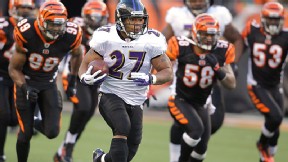 Ray Rice edged Arian Foster in rushing yards, 1,364-1,224, but Foster led in yards per game.
Vote: Five questions for Texans at Ravens

---
Is T.J. Yates the QB for the job?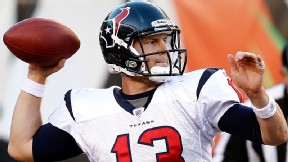 A week ago, 49 percent of SN thought Jake Delhomme gave the Texans the best chance to win. Did T.J. Yates convert skeptics?

---
Does what happened in October matter?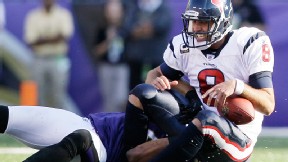 That's Matt Schaub getting hit in a Week 6 loss against the Ravens. Schaub won't be out there this week, but does that result still matter?

---
Last home game for two legends?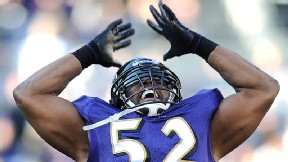 It won't be if the Ravens and Broncos both win, but that scenario aside, will Ray Lewis or Ed Reed return next season?