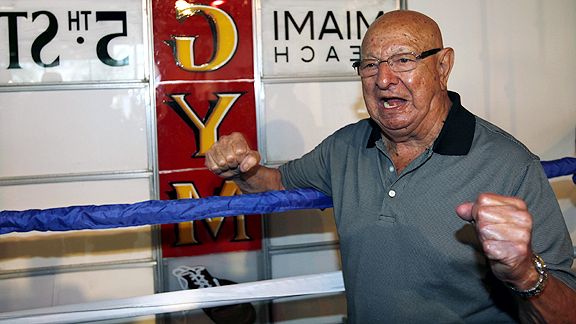 Hall of Fame trainer Angelo Dundee died late Wednesday night at the age of 90. For more than six decades, the famed corner man developed 15 world champions, including boxing greats Muhammad Ali and Sugar Ray Leonard. Share your thoughts on his legacy below.
lsqualls58: "Angelo Dundee is, and always will be, the Gold Standard for Trainers. Not just because of what he did preparing his fighters for bouts, but his ability [to] compliment his high profile boxers. Who else could have handled both Ali and Ray Leonard. RIP Angelo."
robertzm: "Dundee was one of boxing's greatest people. Fantastic trainer and analyst. He was brilliant and brought out the best in his fighters. A nice guy in a nasty business. Dundee was a dominant figure in the sport for more than 40 years. RIP."
4JKN4: "I'll always think of him during Ali vs Liston. Brilliant trainer, he'll be missed."
cmedley8: "Those were the days when boxing was boxing and watched on network TV -- free of charge and Howard Cosell announcing"
fantasy_hyphy: "Today we mourn a great Trainer, a HISTORIC TRAINER.......RIP Angelo Dundee"
houstondoc: "This is such a loss. I used to love boxing, back when the heavyweight champion meant something. Boxing is dying as a true sport, just as those who made it great. "