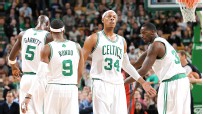 Rajon Rondo dropped his fourth triple-double of the season, and his second in three games, as the Celtics grounded the Knicks 115-111 in overtime. With 18 points, 20 assists and a career-high 17 rebounds, Rondo joins Jason Kidd and Magic Johnson as the only players to have at least 15 points, rebounds and assists in the same game in the past 25 years.
How impressed are you by Rondo's feat? Are the Celtics a threat in the East?
The Lakers showed they aren't a team to be taken lightly as they extinguished the Heat's flame with a 93-83 victory at home. What does the playoff future hold for the Lake Show? After back-to-back losses, are you still convinced the Heat are the team to beat?
Sound off below or join the ongoing conversations about your team.