Peyton Manning and the Indianapolis Colts will part ways on Wednesday, as the Colts have decided not to risk the $28 million bonus they would owe him if they kept him for this season. Manning's future is in doubt, but on the off chance his neck injury doesn't affect him all that much, the Colts could have released a monster on themselves. Is there another Super Bowl ring in Manning's future? Cast your votes below.
---
The right decision?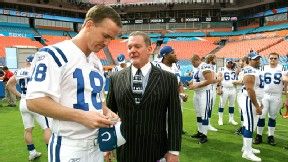 It must have been a nightmare for Colts fans to go from a perennial Super Bowl contender to a laughingstock in their year without Manning. Are the Colts setting themselves up for more failure?

---
The Colts' system?
The Colts without Peyton Manning were an NFL embarrassment, but will he miss them nearly as much as they miss him?

---
Where will Manning land?
Seeing Peyton Manning in a uniform that doesn't have blue and white as its primary colors will be a system shock, but it's definitely happening.