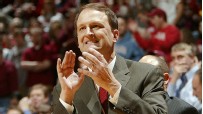 Dakich played for Bobby Knight at Indiana from '81-'85.
Welcome to SportsNation! On Tuesday, we'll be talking about the newly crowned champion of the 2011-12 men's college basketball season with former coach Dan Dakich.
Currently an ESPN basketball analyst, Dakich coached Bowling Green for 10 years, winning more than 150 games. He also served as the interim coach at Indiana in 2008 following Kelvin Sampson's resignation.
Send your questions now and join Dakich Tuesday at 11 a.m. ET!
More Special Guests: Previous chats | SportsNation