The Miami Heat blew a lead against the Chicago Bulls on Thursday night as the Bulls' Derrick Rose sat out in OT. LeBron James had 30 points, 6 rebounds and 5 assists in 47 minutes of play, but once again it wasn't enough.
With less than two weeks left in the season, the Heat haven't won more than two consecutive games since a run in mid-March against the Sixers, Magic, Suns and Pistons.
Although Miami has clinched a spot in the playoffs, this past week it lost to the Grizzlies, Celtics and Bulls with only one win, against the Pistons.
---
Crunch time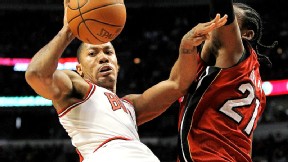 The Heat lost to the Bulls despite Derrick Rose's poor performance.

---
Lack of depth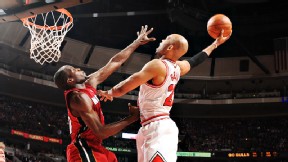 A weak bench showed Thursday night as the Heat's big three combined for 71 out of 86 points against the Bulls.

---
Cause for concern?
With a 1-2 record against Chicago this season, Miami gets one more chance when they meet next week.

---
Only the postseason matters ...
Fresh legs are important in the postseason. How much will a weak bench affect Miami as it tries to go deep in the playoffs?

---
Losing streak
Miami has dropped six of its past 11 games. Will the lack of momentum hurt?