Metta World Peace will miss the next seven games as he serves a suspension for elbowing James Harden in Sunday's game against the Thunder. Is the punishment World Peace received a fair one?
---
Fair punishment?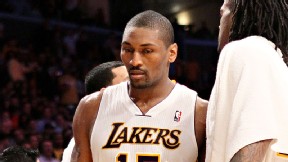 For the 13th time in his 13-year career, Metta World Peace will serve out a league suspension. Is this seven-game reprimand just?

DJJorel: "As a Lakers fan, I think this is fair...but I wouldn't have been too mad at 10+....."
devlondenson: "That's not nearly enough games. This dude is a habitual offender. He should have been suspended for the rest of the season and half of next season "
gseyfer: "Stern knows they won't get through the first round, so 7 games is enough."
legacyreaper32: "The Lakers should take care to ensure the first round lasts at least 6 games. Personally, I hope and can't wait for a Lakers vs. Thunders series. It should be an epic series!!"
L_hop: "so it may not even impact a series against the thunder while the blow may impact harden for the entire playoffs? lame"
Chute99: "Perfect just in time for the likely Lakers/Thunder series in the second round. Even more ratings for the series. Think the NBA had this in mind when they doled out the suspension?"



Join the conversation or respond by signing in or creating a profile and blogging.