"College Football Live" and ESPN.com are teamed up to celebrate ''100 Days Till Football'' on Tuesday, May 22. A series of 10 top-10 lists were unveiled giving you a chance to cast your votes. One such list is predictions for the season, and you'll find five of those prognostications below. Do you agree with them?
More "100 Days Till Kickoff": Games | Predictions | Storylines | ND/Non-BCS
Rank The Players: SEC | Big 12 | Pac-12 | Big East | Big Ten | ACC
---
Derek Dooley done?
Derek Dooley is 11-14 in his two seasons with Tennessee and just 4-12 in the SEC. Patience is in short supply in Knoxville. Would a slow start cost Dooley his job?

---
Strong start in Columbus?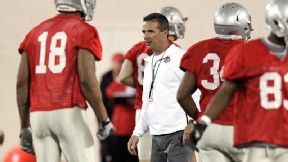 Can new Ohio State Buckeyes head coach Urban Meyer get his team to nine wins in his first season, something he couldn't do in his last season with the Florida Gators?

---
Party like it's 1999?
Head coach Jimbo Fisher has led the Seminoles to a respectable 19-8 record in his first two seasons filling Bobby Bowden's shoes, but are the Seminoles back for good?

---
From fourth to first?
Wisconsin's Montee Ball finished fourth in the Heisman voting last year and will have to contend with sixth-place USC quarterback Matt Barkley again this year.

---
Pac-12 vs. SEC?
Oregon felt it could have played for a national title last season, and LSU is anxious to get back to erase the memory of putting up a goose egg against Alabama in the title game.