Udonis Haslem, Dexter Pittman and Tyler Hansbrough received their reprimands for flagrant fouls in Game 5 of the Heat-Pacers conference semifinal. Haslem (one game) and Pittman (three games) will serve suspensions, while Hansbrough will get only an upgrade to a flagrant 2. Did the NBA get each punishment right?
---
Fair punishment?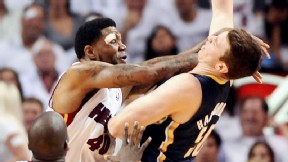 Udonis Haslem missing Game 6 will hit the Heat hard, as they are without Chris Bosh (injury) and Dexter Pittman (suspension).

---
Did the NBA get it right?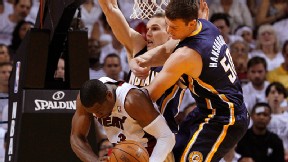 Of the three players who were called for flagrant fouls in Game 5, Tyler Hansbrough was the only one not to receive a suspension.

Fans' take on the Heat-Pacers punishments:
jimjam1234: "Total bias bs against the Heat. If Haslem is suspended then Hansbrough should be too."
ptgatorboy13: "hansbrough got all ball and happened to hit wade as well = good playoff foul
haslem made no attempt at the ball and used both of his hands to hit hansbroughs face = suspension"
CornhuskerKid02: "Shocked about Pitman. I think he should have gotten 10+ games"
morg1527: "Officiating crew should be suspended for the rest of the playoffs. They let the physical play get out of control by not kicking out Haslem."



Join the conversation or respond by signing in or creating a profile and blogging.